Table of Content
Amazon Republic Day Sale & Offers 2020
The Amazon Republic Day Sale Is Back To Start The List Of Amazon Sales. The Best of Amazon Deals Are Up For Grabs
We have entered 2019 and all that happened before is now in the past. It's time to start anew and look for opportunities to make our year memorable, fulfilled, and fun-filled. This year we must try to do more, for ourselves and others around us. One of the best ways to treat someone special, even oneself, is to gift something that one desires. And for that, there is no place better to shop than online platforms that bring a variety within our reach. Not just that, it is a great way of saving a little more while shopping. If you are someone who missed out on a majority of the deals and offers last year, then here is your chance to get past that and start fresh with the Amazon Republic Day Sale.
Amazon Republic Day Sale & Offers - Get Upto 85% OFF
What is the Amazon Republic Day Sale?
Amazon is bringing to you its first sale of 2019 and you couldn't have been luckier. This sale can perhaps become your chance to get the best of deals and offers on Amazon and give your shopping spree a spectacular start.
Celebrate and rejoice. Plunge into the pure bliss that the Amazon Republic Day Sale offers you. We believe you must have got a draft of your wishlist pinned in your mind. All you have got to do is list it out on a paper and voila! The Amazon Republic Day Sale dates have been announced and Amazon users haven't been able rest since. It starts on 21st January 2019 and will last till 24th January. Keep your cart ready for a quick checkout and a hasslefree shopping.
Amazon is offering heavy discounts across various categories. If you are thinking that your favourite category might not have enough of discounts then we will beg you to look again. Amazon Republic Day sale has more discounts running than what you could possibly imagine in your wildest dreams. The offers are extremely lucrative and you won't be disappointed. There is more than 50% discount on different categories. This will only enhance your savings while you fill up your cart.
Amazon Republic Day Sale Discounts
Amazon will be offering staggering discounts on Gadgets, Appliances, Home & Decor, Fashion & Lifestyle, Books, and more.
Amazon Republic Day Sale & Offers on Electronics
So what is on your mind right now? Is it that the laptop that is sitting on your colleague's desk or that smartphone that you have been wanting to gift your mother? You can wish for anything. We assure you that you will find your desired product at the most reasonable price. There is a 25% off on branded laptops and 35% off on smartphones. For televisions there is a whopping 60% discount.

Shop for Mobile Phones, Tablets, Cameras, Televisions, Headphones, Speakers, Laptops, Computers & Accessories, Wearables, Office Products, Data Storage, Gaming accessories, Musical Instruments and much more at the best prices on Amazon.in.
Discounts on other electronics are:
70% off on Cameras and its accessories.
Computer accessories like keyboards, mouse, webcams, laptop skins, batteries, USB hubs will be available for 50% off.
You can easily get power banks, skin stickers, SD cards, headers, chargers and much more at a discount of up to 40%.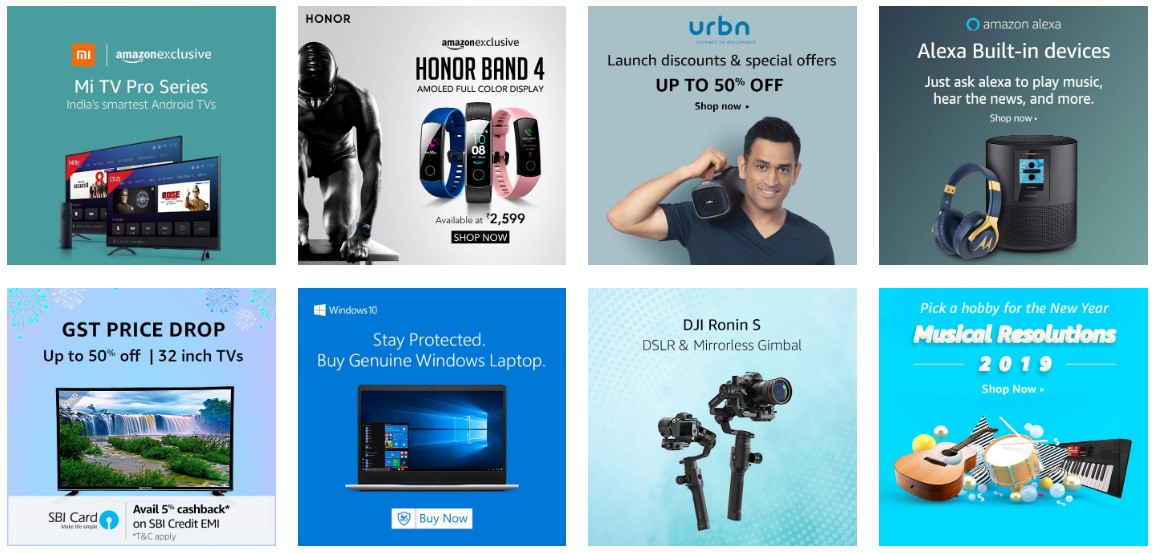 Amazon Republic Day Sale offers on Fashion & Lifestyle
There is enough for every gender in this Amazon Sale. So you don't have to worry about anything as you are sure to find whatever it is that you are hoping to get and it will definitely come at a price that will blow your mind and will leave you wanting for more.
Roll Out in Style with Most Trendy Clothing Line for Men
We all can agree that men find have a harder time finding options for themselves as when compared to women. All of this notion will be flipped as men are going to find themselves flooded with options. Amazon will be offering clothes for men at an 80% discount. This will include clothes from the best brands like Levis, Flying Machine, Puma, Wrogn, Wrangler, and more.



Be Awestruck with the Discounts on Women's Clothing
Looks like Women won't be behind men in the race of making the most of the Amazon sale as they will be fulfilling their fashion cravings at 80% discount. This sale will include clothes from some of the most coveted brands for women like Biba,Zara, Levis, and more. So gear up, as you will find everything here, right from formal wear to western wear to ethnic to lingerie. We have a hunch that even women will have a hard time selecting clothes, not because of shortage of options rather because of its abundance.



Kids will Float on Options with 70% Discount on their Section
Irrespective of the occasion, you will find plenty of options to pick from for those adorable little bunch of toddlers. The range is quite budget-friendly and has discounts to make sure that nothing comes in the way of you picking out the best for your kids.
Amazon Offers and Discounts on Home & Kitchen
Each one of us deep down has a wish of walking into a home that has everything that we need and require. Same goes for our kitchens. All of us try our best to get the perfect set of curtains, appliances, photo frames, posters, wall clocks, artificial plants , etc. You can get the best brands like Phillips, Panasonic, Kenstar,Sony, and more right here, in the Amazon Republic Day Sale 2019. Amazon will be offering all of these at a whopping discount of 40%.
Not just these categories, but just like this there are heavy discounts running across all categories. For books, the bibliophiles will find their jaws dropping at the massive discount of 60% on the books they have been wanting for cheap for long now.
And if you are someone who has the wish to line your dressing table with the most sophisticated and effective skin care products but hoping that you could grab them for the best deals than Amazon Republic Day Sale is where you have got to be. This sale will see all the beauty and skin care products at 70% off. Nivea, Loreal, Lakme, Maybelline, Olay, Avon, whichever one is your preference, Amazon sale has got your back.
Use your Amazon Pay wallet and get 10% cashback on a minimum order value of Rs.250. The maximum cashback that you can avail from this offer is Rs.200.
HDFC Cardholders will be on a Joyride
For the ones who have got an HDFC card flashing through their wallets will enjoy an additional 10% cashback on their purchase. This Amazon HDFC offer is valid on a minimum purchase of Rs.2000 and the maximum cashback that can be availed is Rs.1500.
It is clear that Amazon Republic Day Sale has a lot in store for everyone. All of you can get the best and be content at the end of every purchase. Shop, earn, and save with this Amazon Sale and you will be left with the biggest smile on your face.