Table of Content
Zerodha Referral Offer - Signup Now & Get 300 Reward Points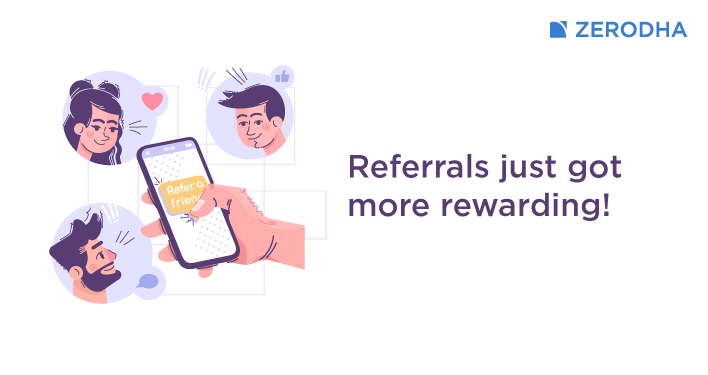 'Save early and save often' is great advice on retirement planning. The younger you start preparing for your retirement, the easier it will be, and the less you will have to save. Zerodha, India's largest stockbroker firm in terms of total active clients base, brings you an online platform where you can invest in stocks, derivatives, mutual funds, and more. Zerodha offers online trading at BSE, NSE, and MCX for free in the equity delivery segment and for flat Rs. 20 per executed order in Intraday and F&O segments. 
If you are planning to start investing in stocks, derivatives, and mutual funds, all you need is a trading and Demat account online. Join 3 million+ investors and traders by just opening a trading and Demat account online and start investing for free with Zerodha. Moreover, Zerodha brings you a new Zerodha referral program to make this more rewarding for you as well. Let's understand more about the Zerodha Referral Offer and how you can get benefited with this in detail.
What is Zerodha Referral Offer?
If you are new to Zerodha and want to open a new trading and Demat account online, just signup from the link below and get 300 rupees worth reward points as a welcome bonus. These reward points can be used to subscribe to Zerodha premium products and partner services (Streak, Sensibull, Smallcase, and LearnApp). Along with the current referral program, refer your friends and family to Zerodha and get another 10% if the brokerage they pay and another 300 reward points. 
How to create a Zerodha account with a referral link?
Open the Zerodha signup page and enter your mobile number. You will receive an OTP on your number. Submit the OTP to verify your mobile number. 
Next, enter your personal details like your name and email ID. Remember that you must enter your name according to Aadhar card. Now, verify your email id with OTP.
Once your basic details like your mobile number and email address are verified, the main process starts from here. There will be 7 steps to complete Zerodha account. 
Step 1: Enter your Pan Card details and date of birth (DOB). Please make sure to enter the date of birth according to your Pan Card.
Step 2: Now you need to pay some money to use Zerodha. You can pay money with a preferred payment option. You can even choose an Amazon Pay wallet to complete your payment. 
Step 3: Now you have to enter some more personal details like marital status, mothers name and other. Fill the details according to you. 
Step 4: Now you have to link your bank account. Enter your Bank IFSC Code, Zerodha will automatically fill Branch MICR code. After entering bank IFSC, confirm your bank account, and agree to their terms and conditions.
Step 5: Next, you have to verify code using webcam verification (IPV). Just write the code on a piece of paper and hold it in front of the camera. Please ensure that your face and the code are clearly visible on the webcam. 
Step 6: Upload mandatory documents like a copy of the cancelled cheque or bank statement, proof of income, signature, and copy of Pan Card. 
Step 7: In the final step, now you need to digitally sign your application form. Click on eSign option and you will be redirected to another page. You have to verify your email ID with OTP. After that, it will be redirected to NSDL Page. Enter your Aadhar number and verify it with OTP.
That's it! You have successfully created your Zerodha account using a Zerodha referral link. Within the next 12  to 24 hours, you will receive your Zerodha Id and password.
How to check 300 Zerodha rewards points?
If you want to check whether you have earned Zerodha rewards points or not, open the Zerodha app and go to the profile section. Click on that next click on Invite friends > view rewards. Here you can see your 300 reward points.
Zerodha Refer and Earn
When you refer your friend or family members to open an account with Zerodha, Zerodha pays a flat 10% of the brokerage as referral cash. Also, you will get rewarded with 300 reward points for each referral. Zerodha referral earnings are credited to your account every month and you can withdraw the 10% brokerage share to your bank account. You can withdraw the brokerage share once you reach a threshold of Rs. 1000 with a minimum of 5 referrals. 
Zerodha Account Referral Benefits
Referring your friend or family to open an account with Zerodha benefits you in many ways. Following are the benefits of Zerodha refer and earn program:
You earn a 10% brokerage share to your account through the Zerodha referral program.
You also get 300 reward points for each referral. These reward points can be used to gain access to our growing ecosystem of trading and investing apps such as smallcase, Sensibull, Streak etc.
Your friend will get 300 reward points offered by Zerodha under the Zerodha refer and earn. 
How to refer your friends and family members to Zerodha?
You can invite your friends and family members to Zerodha by entering your friend's contact details or copy the affiliate link and share it on social media, WhatsApp, email, etc. If any of your friends click on the affiliate link and open an account with us, you and your friend will receive 300 points. 
About Zerodha
Started in 2010, Zerodha is India's prominent online stock broker offering the lowest, cheapest brokerage charges for futures and options, commodity trading, equity and mutual funds. The company is headquartered in Bangalore and has a presence in nine Indian cities. 
Apart from bringing disruptive pricing models and in-house technology that have made them the biggest stockbroker in India in terms of active retail clients, Zerodha is also acknowledged as a pioneer in technology for trading in India.
Signup Using Zerodha Referral Link & Get Rewarded by Zerodha
Now you know that the Zerodha is the prominent discount broker in India offering flat-rate discount brokerage services to retail investors. And if you are new to Zerodha and want to open a trading and Demat account, just use Zerodha referral offers and enjoy the excellent brokerage product and services offered by Zerodha. If you are a Zerodha customer, simply refer a friend or family member to Zerodha and you earn a 10% brokerage share through the Zerodha referral program. You and your friend also get 300 reward points for each referral. So, use the Zerodha referral link mentioned above and enjoy the referral benefits offered by Zerodha. Happy Trading!