Table of Content
Nykaa Is Here With Its Nykaa Pink Friday Sale. Avail All The Nykaa Pink Friday Discounts Before The Time Runs Out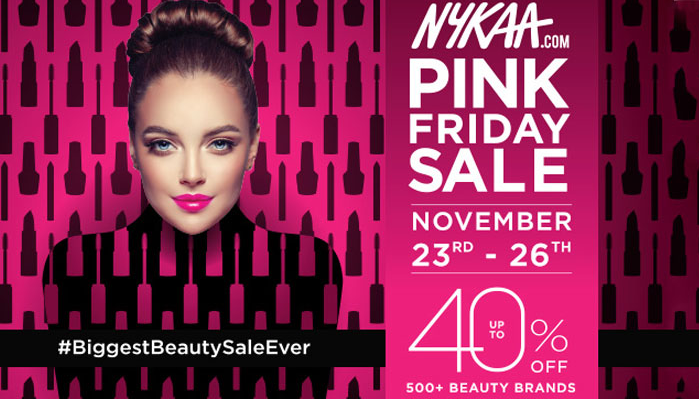 When was the last time you invested in latest leading skincare, haircare, makeup products, without the price tag of products raising concerns within you and in turn weighing your shopping spirits down? It's time to put an end to all the concerns of post-shopping guilts and shop your heart out. 
Nykaa Pink Friday Sale is banging at your doors right now. Open your gates to the flood of Nykaa Pink Friday offers and make the best of the experience. Line up your dressing table with all the beauty products and explore the variety that is out there waiting just for you. Treat your skin to the best products and see it shine and smile with joy.
What are the Nykaa Pink Friday Offers?
This Nykaa Pink Friday Sale you can get up to 40% off on beauty products. You can shop from a wide range of makeup, skincare, bath & body, fragrance products and more. With this sale, you will get lots and lots of Nykaa discounts and offers on products that cover more than 500 beauty brands. All of your favourite brands right from Loreal, Lakme, Nykaa cosmetics, Wet n Wild, Biotique and more. This Nykaa Sale is also the first time when products of Luxe brands like MAC, HudaBeauty, Kama Ayurveda are on offer.
What Offers Are There on Nykaa in Various Categories?
If we were to list out the rate of discounts offered on various categories under this Nykaa Pink Friday Sale then the list would look as follows.
Upto 40% off on makeup.
Upto 30% off on skincare.
Upto 35% off on hair products.
Upto 40% off on appliances.
Upto 40% off on fragrances.
Upto 30% off on Mom & Baby products.
Upto 30% off on Mens grooming.
There are heavy discounts running on all the other categories during Nykaa Pink Friday Sale.Explore and find out what suits your need the most.
What are the Best Nykaa Pink Friday Sale Deals?
As already mentioned above, this Nykaa sale is all that you have been waiting for. There is a whole lot of fashion deals brightening up faces everywhere. Make sure you check them all and let your day shine.
Nykaa Flash Deals: Save Even 60% Every Day
New items are added every day to the Nykaa flash sale for all those who have been patiently waiting until now. You can save upto 60% on different beauty products every day.
Nykaa Naturals: Buy 3 Get 1 Free 
With this deal, you can save up to 30% on selected Nykaa natural products. Not just that, you get 1 product for free on a purchase of 3 items. No Nykaa coupon code is required in order to avail this deal.
Free Delivery On All Orders Above Rs.500
If you have a bill that exceeds Rs.500 then there is absolutely nothing to worry about. In fact, that could just be the bearer of good news. With a bill that is exceeding Rs.500, you will get free delivery on your orders from Nykaa.
What is the Return Policy?
If you wish to return or exchange the product you purchased, then you'll have to drop in a request via email within 5 days of your receipt. Make sure the products are returned in their original, unused state and unopened condition. This is mandatory if you wish for a successful return.
What are Payment Options are Available on Nykaa Sale?
Nykaa accepts Visa, Mastercard, American Express, RuPay.
Nykaa Pink Friday Sale Search Terms
Nykaa Black Friday Sale, nykaa pink friday sale dates 2018, nykaa pink friday offers, Nykaa Black Friday offers, Nykaa pink friday coupons, Nykaa pink friday deals, Nykaa pink friday discount offers