Table of Content
Finally! After a long wait, Indian Premier League 2020 gets underway in the United Arab Emirates from Saturday with a clash of the titans in the Twenty20 cricket extravaganza. Indian cricket fans, who have been waiting for this event can finally watch the live-action on TV and live streaming online. What about Fantasy Cricket fans? Dream11 takes care of its fans, thus brings an amazing cash deposit offer for its potential users. Whether you're new to Fantasy Cricket or a strategic Dream11 fantasy player from years ago, it's time to top up the Dream11 wallet and earn extra money. So, what are you waiting for! Avail the Dream11 Cash Bonus offerToday, top up your dream11 wallet now and create your fantasy team for the IPL 2020 opener match between four-time champions Mumbai Indians (MI) and three-time winners Chennai Super Kings (CSK).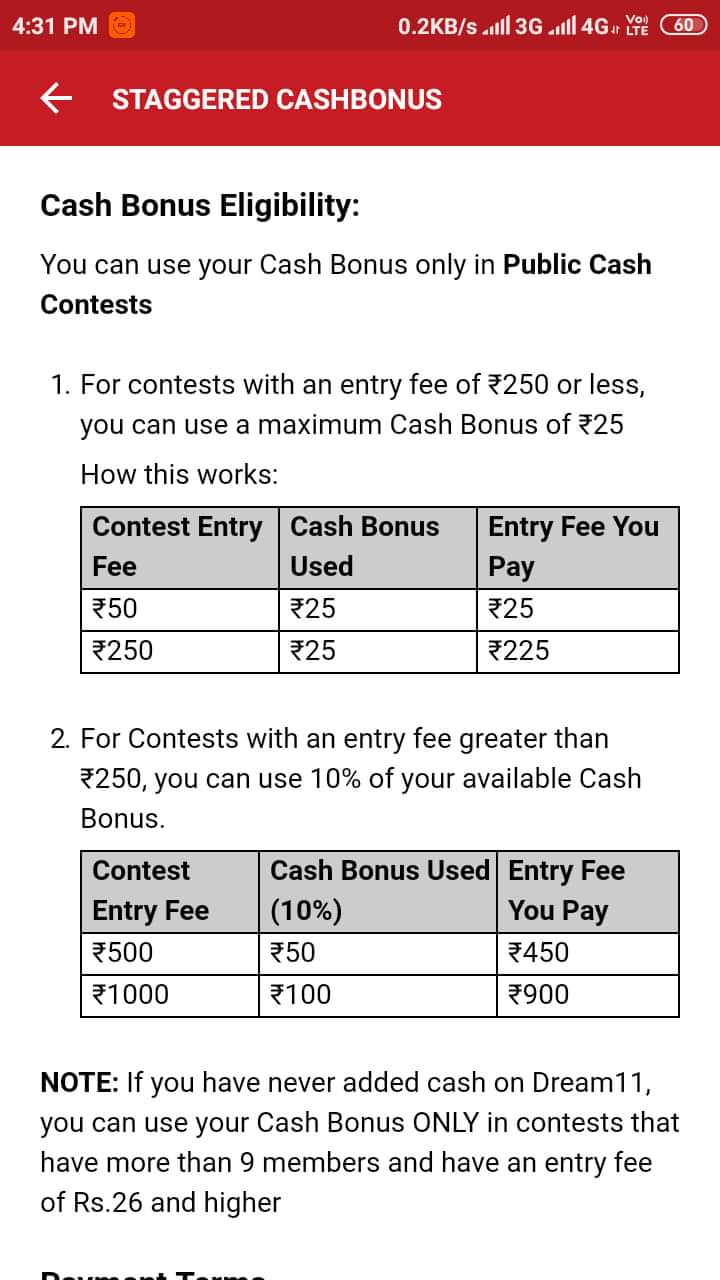 What is Dream11 Cash Deposit Offer?
If you're looking for an amazing cash deposit offer on Dream11, then you've landed in the right place. Top up your Dream11 wallet with Rs. 222 and you can earn up to Rs. 222 extra. Isn't it a great offer.  So, deposit the cash, create your fantasy teams, and win real money every day. Besides, you can earn Rs. 50 extra cashback when you pay through Amazon Pay.
Remember that the Dream11 cash deposit offer is a limited time offer valid for the first 1 lakh users. So, recharge your Dream11 wallet fast and play fantasy cricket to win real money.
How to redeem Dream11 Deposit Offer Today?
Go to the Dream11 store page.
Login to you Dream11 account (if you are an existing user; if you are a new user sign up)
Next, click on "Add Cash" button and Add Rs. 222 in "Amount to be Added" option
Complete the transaction and you will earn Up to Rs. 222 extra
Use Amazon Pay to earn extra cashback on your deposit
Dream 11 Add Money Offer Today
This "Cash Bonus Offer" ("Promotion"), is available only for those registered users who have received communication from Dream11 after uninstallation of the App during the Promotion Period (defined below). Under this Promotion, users who make at least one Qualifying Deposit (as defined below) during the Promotion Period (defined below) will be eligible to receive a cash bonus amount ("Bonus Amount"), the value of which will be dependent on the value of the Qualifying Deposit credited into their Dream11 Cash Bonus Account, in accordance with, and subject to the users' full compliance with, these Terms (defined below).

Please note our terms and conditions ("Terms") in this respect, as they govern your participation in the Promotion:

Eligibility – Participation in the Promotion is only available to registered users of Dream11 who are eligible to participate in the pay-to-play Dream11 contests as per Dream11's terms and conditions.
By participating in this Promotion, you agree to comply with these Terms, the Standard Terms and Conditions for Promotions and the terms and conditions of the Dream11 game.
The Promotion will be open for participation from Indian Standard Time ("IST") 16:00:00 hours on December 13, 2018 till IST 23:59:59 hours on December 30, 2018 ("Promotion Period").
To participate in the Promotion, you must make at least one cash deposit of exactly any of the amounts specified in the table below ("Qualifying Deposit") into your Dream11 account during the Promotion Period to be eligible to receive the Bonus Amount corresponding to the Qualifying Deposit made by you, in accordance with the table below:

| | |
| --- | --- |
| Qualifying Deposit (INR) | Bonus Amount (INR) |
| 47 | 47 |

Please note that only the Qualifying Deposits made by a user during the Promotion Period shall be considered for the purpose of determining whether a user is eligible to receive the Bonus Amount and not any deposits that are made by the user into such user's Dream11 account after the Promotion Period.
There is no maximum limit on the number of Qualifying Deposits that may be made by a user during the Promotion Period. However, the user will be entitled to receive the Bonus Amount corresponding to the Qualifying Deposit amount only once.
Subject to your compliance with these Terms, the Bonus Amount will be credited into your Cash Bonus Account by IST 23:59:59 hours on December 31, 2018.
The maximum Bonus Amount that may be credited to your Cash Bonus Account pursuant to this Promotion is INR 47. This is the sum total of cash bonus which will be credited if a user were to participate in each offer once
Any amount spent by the user in entering any private pay-to-play contest will not be considered for the purposes of this Promotion.
Please note that this Promotion is only available to the first 1,00,000 (One Lakh) users who make the Qualifying Deposit within the Promotion Period. For the purposes of these Terms the first 1,00,000 (One Lakh) users shall be calculated per Qualifying Deposit offer.
Unutilized Cash Bonus will expire in 90 days from the date that it has been credited