Table of Content
Paytm Rs 1 Sale - What Are Paytm Mall Rs 1 Loot Offers and Discounts?
Hardly, you will find someone who isn't aware of Paytm digital payment service. Nowadays, every other person makes payment through his Paytm wallet, whether we talk about bill payments or recharges. Not just this, even several retailers keep Paytm as a payment option for swift and cashless payments. Besides quick payments, the online platform offers a plethora of coupons, discounts, and deals on varied products.
Paytm Mall is one such place, where you can shop for different products using numerous cashback offers to save money. Time to time, the online platform rolls out a Paytm flash sale of Rs.1 where every product is available at Re.1 only.
What is Paytm Mall Rs.1 Sale?
Paytm Rs 1 sale is a flash sale where most of the products are available at Rs.1 only. In other words, you can purchase everything at almost 100% discount during the Paytm Rs.1 loot period. Whether we talk about computer accessories, electronics, or mobile accessories. In addition, users can get their hands on products like adapter, USB cable, iPhone back covers, USB converter, lightning charger, and more.
How to Shop at Paytm Mall Rs.1 Loot?
Follow the mentioned below steps to shop at the Paytm Rs. 1 product sale:
Add a product that you want to purchase to the cart.
Make complete payment of the product.
After the purchase, the complete amount deducting Rs.1 will get credit to your Paytm wallet.
For instance, you have purchased something worth Rs.51, Rs.50 will get credit back to your wallet after some time. 
What products you can purchase during the Paytm mall Rs. 1 deal?
When you shop at Paytm Mall, you can shop for men's fashion, women's fashion, including clothes and accessories, electronic accessories, home & kitchen products, mobile accessories, toys, stationery and more.
1Rs sale Paytm *OFFER* | Flash sale | Deal | How to grab fast
Previous Paym Mall Rs.1 Loot Sale
PayTM Mall Rs.1 Loot Deal, PayTM Mall Rs.1 Flash Sale – Hi Guys, Biggest Loot of PayTM Mall Still Continues, After Some Great loot Deals From PayTM Mall using coupn " ONCEAMONTH" "EVERYMONTH" "MAHA100" Its Time For Another Loot, where Paytm is offer products for Rs.1
PayTM Mall is Offering many Items In Just Rs.1 With Special Promocode such as AMAZINGRS1. Also get free shipping for some Item Or Very Low shipping charges which make it a crazy deal from Paytm.  have a look on the below screenshots which will clear all your question regarding Paytm Mall Rs.1 Sale.

PayTM Mall Rs.1 Sale – Buy Items In Just Rs.1 + Free Shipping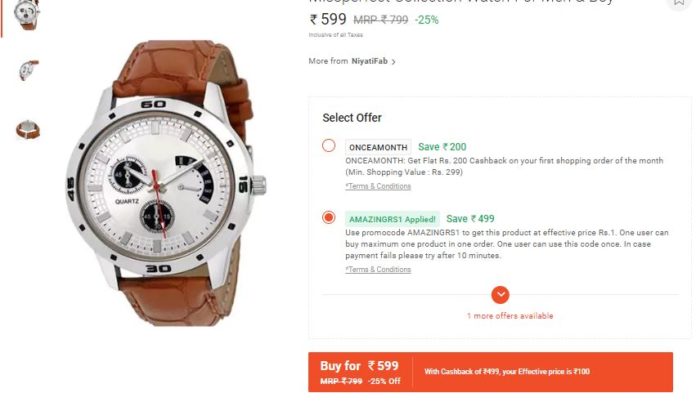 What Kind of Product you can buy under Paytm Mall Rs.1 Loot Offer
PaytmMall offers a wide range of products to buy at Rs.1 under its Rs.1 flash sale. You can find products like Watch, Mobile accessories, Automotive products, Kids Toys, Fashion, even some grocery products at Rs.1 or at a very low price. So if you missed the last sale. stay tuned for the next Rs.1 flash sale to grab the exciting deal.
Paytm Mall Rs.1 Flash Sale Promo Code
Paytm Mall runs Rs.1 flash sale for limited period time and for that sometime they release a coupon code or sometimes they directly offer products for Rs.1 without any promo code.for example in last Rs.1 flash sale, they have a coupon - AMAZINGRS1  to get the product at Rs.1. but currently they don't have any Rs.1 flash sale active promo code.
More detail about Paytm Rs1 Flash Sale promo - AMAZINGRS1
This Rs.1 flash promocode is applicable only once per user.
In case payment fails please try after 10 minutes.
Promo codes are subject to maximum cash back amounts.
Cash back acquired from promo codes to be credited within 24 hours of your product being shipped.
Cash back received will be credited to your Paytm wallet.
Promo codes are not applicable for Cash on Delivery (COD) mode of payment.
PayTM Mall Offers
Paytm Mall Rs.1 Flash Sale Search Tags
Paytm Rs.1 sale, Paytm Rs.1 loot deal, Paytm Rs.1 coupon, PaytmMall Rs.1 Loot Sale Deals, PaytmMall Rs.1 Loot Sale Offers, PaytmMall Rs.1 Loot Sale Coupons, PaytmMall Rs.1 Loot Sale Deals and Coupon, Paytm Rs.1 Flash sale, PaytmMall Rs.1 flash sale, paytmmall Rs.1 loot offer