Table of Content
Flipkart Best of Season Sale - Grab Upto 80% Discount in Flipkart Fashion Sale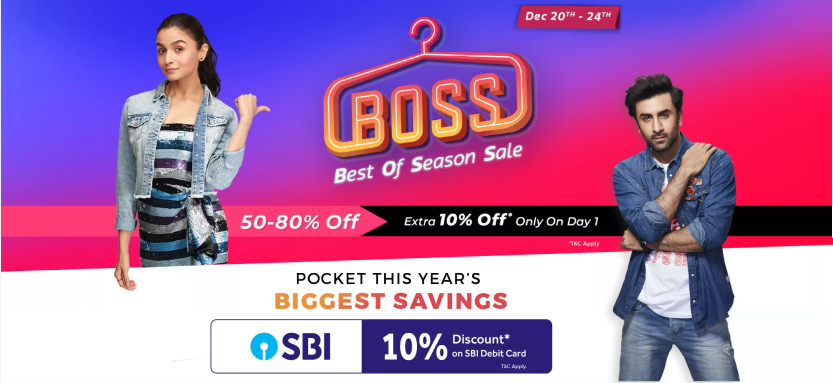 Flipkart Best of Season Sale is going to start from 20th Dec till 24th Dec 2018. This year flipkart fashion sale has amazing offers and discount deals for its users. Users will avail sale upto 50-80% on clothing, footwear, accessories and more. Not only this, Sbi card holders can avail extra 10% Discount and flipkart plus member can use 10 coins for 10% discount and 15 coins for discount upto 15%. So, mark your calenders and be ready to shop untill you drop. First day of Flipkart fashion sale will offer extra 10% discount on day 1.
Flipkart Fashion #IndiaKaFashionCapital Offers 
Flipkart BOSS Of All Sale Is Here. Don't Miss A Single Flipkart Fashion Sale Offer Or Regret And Keep Waiting For The Next Big Sale. 
We all have been seeing Alia Bhatt talk about the BOSS of all Flipkart sales on our television screens every day. It is a constant reminder that this Flipkart Best of Season Sale is an opportunity that none of us can afford to miss. If you have a wardrobe that flies flying in and out of it or you just happen to be done with your style and need a makeover, the Flipkart Best of Season Sale is the best place to pick out your favourites and stun everyone with a whole new you.
What is the Flipkart Best of Season Sale?
Flipkart is coming up with yet another mind-blowing fashion sale that will be enough for all its customers to start drooling all over. The Flipkart Fashion sale offers are always hard to resist and this sale will be no different. The Flipkart Best of Season Sale dates have been announced and the people have been going gaga over it. This Flipkart Fashion Sale begins on 20th December 2018 and will last till 24th December 2018. There you go, all you online shopping fans have enough time in hand to line a whole new wardrobe with apparels you have always desired and that too at the best rates possible.

The Best of Season Sale has got 50-80% off across categories. Imagine, with such a heavy range of discounts, you can save so much more than what you would have on normal days. Not just that, on the first day of this Flipkart fashion sale, there will be an extra 10% off on various categories. If that's not tempting then we can't say what is.  
Look out for these Flipkart Fashion Sale Discounts and Offers
Flipkart is offering flat 80% discount on more than 2 Lakh styles. Besides this, there will be a discount of flat 70% on 8 Lakh plus styles. As if that wasn't exciting enough, Flipkart is offering flat 60% off on more than 15 Lakh styles. You can also start wishlist your picks beforehand so that you don't spend a lot of time scrolling through the products during the sale. A ready wishlist will help you save time as you'll know exactly what you want to buy. This way you'll also cover more categories and hence shop across the length and breadth of the sale and save more than you wouldn't have even imagined in your wildest dreams.
Branded shirts under Rs.699
Get shirts of the most coveted brands for under rs.699 and roll out in style and stun the onlookers.
Shoes from UCB and other brands at minimum 70% off
If you have the desire to own the best pair of shoes in town then you cannot afford to miss the discounts being offered on branded shoes during this Flipkart Best of Season sale 2018.
Women's Jeans for under Rs.299
For the ladies who can't get enough of those skin-tight jeans that bend with every beautiful curve, this sale has the best offer. Get your perfect pick for under Rs.299.
Casio watches at 20-40% discount.
All of us have been crazy for Casio watches since forever. One brand that is in the favourites list of every person is Casio. Get the best of Casio watches at great discounted rates and give your wrists a new twist.
Get the Season's Best Sellers at the most affordable rates within your budget
There is a reason why it is advised that you must prepare a wishlist before you step online and start shopping as there is a crazy out there. A tremendous amount of care has been taken in order to get you the best deals this Flipkart sale. Right from casual shoes for Rs.999 to Handbags and wallets for Rs.999, the Flipkart BOSS sale has it all laid out for you.
Flipkart Discounts on Various Brands
Up to 40% off on Reebok
Van Heusen- 60% off
US Polo Assn. for under Rs.999
Forever 21- Min. 40% off 
The list does not end here, brands like W and Vans are also in line with 50% discounts on their products.
Flipkart Offers Up to 90% off - Factory Price Store
The title is enough to give you an idea of what you must expect from the Flipkart BOSS discounts. All of us are quick to hear and smell the factory price store deals and even quicker to pick products off the rack. So it goes without saying that you must and must look out for this superb deal during this Flipkart Fashion Best of Season sale 2018.  
That is not all, there are also Flipkart Fashion deals of Buy 1, Get 3 free and Buy 1, Get 4 free. 
Guarantee of Lowest price
There is an entire section dedicated to the lowest price. Every day more and more brands will be revealed in the section with their discount rates displayed beside them. The discounts can go really high and there is no way you can even try to estimate.
Have a checklist for Flipkart Fashion Sale?
Shop on Flipkart this sale season and you will have no difficulty sailing from one end of a category to some other end of a whole new category. No matter how you dive, head first or whichever part you like, but we promise you would want to get out completely drenched in the spell of the Flipkart sale. Make a checklist of all the things you want and desire and keep striking off each line with every single purchase you make and every penny you save.
Flipkart BOSS Bank offers
If you are an SBI card holder, then you're in luck as you'll be getting an additional 10% discount. Flipkart is offering an extra 10% discount on payments made via SBI Debit Card.
With every 10 coins, you'll get 10% off and with every 15 coins, the discount will rise to 15%. 

If you shop for Rs.5000 during the Flipkart period, you'll get flat Rs.1,000 off on your purchase. Similarly, on a purchase of Rs.3,000, you are sure to get a discount of Rs.500 and if you shop for Rs.1,500, you'll be eligible for Rs.200 discount.

You can clearly see that during the Flipkart Best of Season Sale you are bound to shop and save more. So keep shopping and keep filling your wardrobe and pockets.
Flipkart Fashion Sale Offer Search Terms
Flipkart Best of Season Sale, Flipkart Fashion Sale, flipkart fashion sale today, Flipkart Fashion Sale Offers, Flipkart fashion 80 off, Flipkart fashion discount, Flipkart fashion deals, flipkart sale today offer dresses, flipkart fashion shoes, flipkart fashion india, flipkart offers fashion mega, flipkart fashion sarees