Table of Content
6 GB RAM | 128 GB ROM |
14.83 cm (5.84 inch) Full HD+ Display
24MP + 16MP | 24MP Front Camera
3400 Lithium Polymer Battery
Huawei Kirin 970 Processor
Pros
Cons

Beautiful Design
Kirin 970 AI Processor
Android Oreo with EMUI Skin on Top
Good Battery Life
24MP+16MP Rear Camera
24MP Selfie Camera

No Expandable Memory Options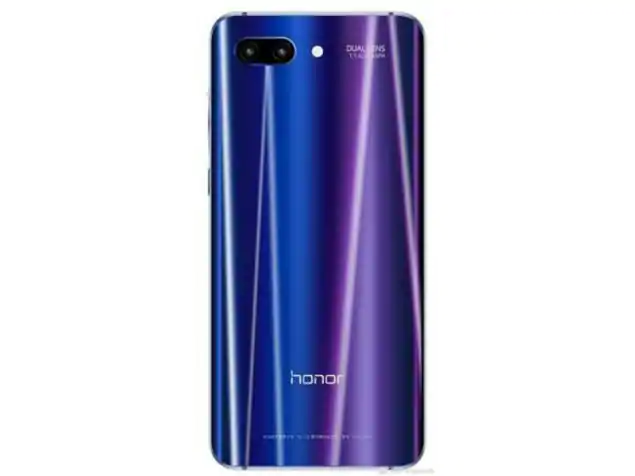 Honor 10 Release Date in India - Apr 2018
Since November last year Honor has unleashed quite a range of phones under its flagship, Honor View 10, Honor 9 Lite and Honor 7x. And each of them boasts a premium design bundled with cutthroat specs. The Honor 10, a sub-brand of Huawei was launched in April this year and the phone makes quite a statement for its looks and configurations in the mid-range price segment. Honor is always known for its premium design, and strong hardware specifications, not to mention the legacy of Huawei, the Chinese company that has been making phones and communication hardware for several decades. Honor 10 is quite the flagship smartphone of Huawei and is closer to Huawei P20 Pro, albeit at a lower cost.
Honor 10 Price in India
Honor 10 is priced at Rs 24,999 and is available only on Flipkart. The phone has a strong futuristic appeal with its AI processor and brilliant finish. The mid-range phone market has also become quite competitive these days, just like entry level and budget smartphones. The Honor 10 has a close comparison with Samsung Galaxy S9, OnePlus 6 and Google Pixel 2. There is a tad difference in pricing and each phone competes with other on specs and advantages.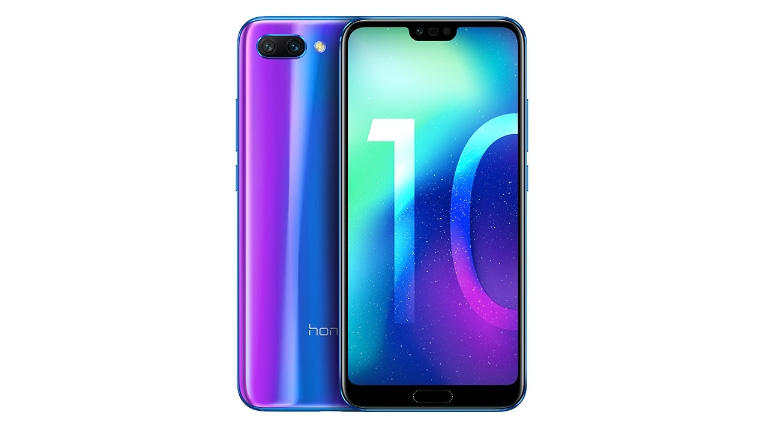 Honor 10 Hardware and Design
Rating: 4/5 
Smartphones are pushing for slimline display and Honor 10 is no exception. The 149.6 x 71.2x7.7 mm edge-to-edge screen finishes of with some eye-catchy beveling on the sides. The aluminum rear of Honor 10 is a glossy blue color with outer glass body, with separate side and rear parts. Weighing about 153 grams the deep-blue chassis exudes the feel of any high-end smartphones available in the market today. The phone does not have any IP rating for dust and water resistance which is no exception with mid-range phones.
The Honor 10 runs on Huawei Kirin 970 AI processor clocked at 2.36GHz and 1.8GHz. The 6 GB RAM can sound like a big deal, but it is a question how effective RAM space is available in the first place. The reason being the AI processor which requires a chunk of RAM to feed itself continuously.
The 3.5 mm headset jack and the Type C-charging port is located at the bottom edge. The power and volume rocker button are situated at the right side and is minimally engraved. The phone comes with dual-sim option and a microSD card slot. The 128 GB internal storage is a bull and is not expandable. The Honor 10 is available in two colors, Phantom Blue and Midnight Black.
Honor 10 Display
Rating : 4/5
The 5.8-inch display has a resolution of 1,080 by 2,280 pixels at 432 pixels per inch. The screen with its top-notch is crisp and clear and the IPS LCD panel delivers enough pop to the display. The ultrawide 19:9 aspect ratio of the screen makes for a great movie watch and the audio quality seems pretty right even if you use without a headset. If you do not like the notch just turn it off and make more room for viewing. The screen also supports multi-touch technology.
Honor 10 User Interface
Rating : 4/5
Honor 10 runs on Android Oreo 8.1 with a skin of Huawei Emotion-UI (EMUI) 8.1.0 on top. EMUI has a series of features and comes with its own navigation system. PrivateSpace, App Lock and App Twin are some features of EMUI. The interface also gives Ultrasonic Underglass fingerprint sensor which Huawei claims to be secure.
PrivateSpace lets you create your private space which is accessible through a unique password and fingerprint. There is also App Lock feature if you prefer to lock down few apps instead of using PrivateSpace. Through this feature you list the apps which only you would like to access, and here again you need a password or fingerprint to access App Lock. App Twin lets you create social media app clones and access your accounts seamlessly. You can also use Voice Control feature to perform several tasks without touching your phone. You can make call, unlock your phone and also locate your phone through Voice Control.
EMUI is snappy and a stable user interface that provides lots of customizations. If you love to fiddle with your phone EMUI will not disappoint you.
Honor 10 Performance
Rating: 4.5/5
Honor 10 is powered by 3,400 mAh non-removable battery. Huawei claims that Honor 10 can be used for 18 hours talk time and can take anywhere up to 108 minutes to charge from flat. The battery gives you a justified performance for what the handset costs.
The hardware is powerful and its handshake with the stable software produces excellent performance. You can play graphics heavy games like PUBG and Asphalt without any hitch and heating issues for hours. The phone multitasks like a butter with multiple apps running on the background. The NPU powered processor utilizes battery and optimizes performance.
Honor 10 Camera 
Rating : 4/5
Honor 10 has 24MP+16MP dual rear camera and 24MP front camera. Apart from some of the basic camera modes present these days, like HDR, panorama, and pro mode, there are other effects inspired by Snapchat, Instagram and Prisma. If you are in love with photo filters, then there is a dozen of filters in Honor 10. There is a motley of shooting modes in the camera app. This includes Wide virtual aperture photo, Moving picture, professional camera, professional video, 3D panorama, Monochrome, HDR, Night shot, Panorama, Light painting, Time-lapse, Slow-mo, Filter, Watermark, Document scan, Wide aperture video, Timer, Audio control, capture smiles, and Ultra snapshot.
The Honor 10 camera does a near about good job in taking pictures in well-lit conditions.  At night Honor 10 produces dim results with some shots being mushy and poor detail. The 24 MP selfie shooter impresses most of the time, but images gets murkier in low light.
At this price point Honor 10's camera performs like most of the handsets out there. It does not do anything impressive out of the box to make a strong case for its camera but at the same time produces enough adequate results to please you at the end of the day.
Honor 10 Conclusion
In the mid-range segment Honor 10 packs a punch with great hardware and software performance. Its classy appeal and powerful spec makes a strong case to go for this product. It certainly gives you some premium features and provides you great option other than Samsung. If you are looking for an upgrade from your budget phone then Honor 10 can be your choice for the good reasons.
Honor 10 Smartphone Review with Pros & Cons after the Hype!
Honor 10 Overall Rating : 4/5