arrow_back
Back to Olacabs.com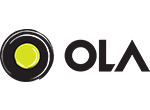 Ola Money Offers: Get Extra 33% on Adding Ola Money for Rs. 599
Offer DetailsOla Money Offers - Get Extra 33% on Adding Ola Money for Rs. 599. Recharge with Rs. 599 and Get Rs. 799 in your Ola Money wallet on using Coupon Code. Offer is valid from 6th August to 12th August. Coupon Code can be applied only once.[Update: Offer is now Expired.]
How to Avail this offer?
Go to the undefined offer page.
Login / sign Up into your account.
Add money into Ola Money account to avail offer
Proceed to complete the payment.
Table of Content
Ola Add Money Offers
Here Are the Best Ola Add Money Coupons and Promo Codes
Ola is one of the best ways to travel. As per your convenience, you can book a cab and ride anywhere you want to. With the introduction to the Ola Money facility, one can now easily pay directly from their Ola account. No more there is any need to carry cash or hassle over the change, simply pay using Ola Money and enjoy your ride. To add money to your Ola wallet, you can even utilize different Ola Add Money coupons and promo codes to earn cashbacks.
What are Ola Add Money Offers?
Time to time, Ola allows its users to earn either discounts or cashbacks on adding money to the account or on rides. Here, we have mentioned the best Ola Money add cash offers for you.
Ola Money Rs. 99 Offer
On adding money to the Ola account, the platform is giving a flat cashback of Rs. 99.
How to Avail Ola Money Add Money Offer?
Download the Ola Money app and sign in to your account. In case, you are new on the Ola platform, verify your mobile number to sign up.
Add money to your Ola wallet.
Under the promo code section, enter "TGIF99".
After applying the Ola Add Money promo code, confirm the transaction.
Terms and Conditions of Add Ola Money offer:
Ola reserves the right to change/add/modify and withdraw the offer at any time, without any prior notice or specific reason, at its sole discretion,
The Ola add money promo code can be used only for one time during the period offer.
The maximum cashback that a user can avail with the add Ola Money offer is Rs. 99.
The minimum transaction of Rs. 999 is necessary to become eligible for the cashback.
Make sure to use the Ola Add Money coupon code before making the transaction.
Ola Money Rs. 599 Offer
Ola is giving a chance to its customers to earn a flat discount of Rs. 200 on Zoomin products. To avail the Ola Add Money offer, users have to add Rs. 599 to their Ola accounts.

Terms and Conditions:
The voucher is applicable only on Zoomin books, desktop calendar, and Collage Posters.
The Ola Add Money coupon code can be used only for one time during the offer period.
Users will receive the Zoomin voucher via email.
Only Indian citizens are eligible for this offer.
The Ola Add Money promo code cannot be clubbed together with any other offers running on the platform.
How to Earn Cashback Using Ola Money 599 Offer?
Why rely on other means of transport when you can book an A/C cab at an inexpensive price to go from one place to another? Ola is one such cab service that promotes hassle-free commuting either daily or occasionally. The user-friendly Ola application finds your rides, within a few seconds. Moreover, you can schedule rides for later and access to the past rides history anytime. Along with this, you receive many exciting Ola Money offers such as Ola Money 599 offer. Such Ola promotional codes allow you to earn cashback and get discounts on your rides.
What is Ola Money 599 Offer?
When you add money to your Ola account, you make cashless payments to your driver. This way, you do not have to carry cash with yourself or worry about the change. Ola money is the fastest way to pay the total value to the driver as the amount is deducted automatically. On various occasions, Ola provides the user with different Ola money offers, for instance, Ola Money 599 offer.
Ola Money 500 offer 2018 allows the user to win an amazing cashback of Rs. 50 on recharging the Ola money with Rs.599 or more. For this, you have to use the GET50 promo code at the time of adding the amount.
Terms and conditions of Ola Money 500 ENJOY50 Offer:
To avail the offer, you have to add the minimum amount of Rs.599 to your Ola money.
You receive Rs.50 as cashback amount when you avail the offer.
Each user can redeem the offer for one time only.
The validity of the offer is up to 7 days from the day of receipt of the communication.
The offer is applicable to only selected users.
Ola holds the right to modify/withdraw the offer any time at its own discretion.
How is Ola Cash Money Beneficial for You?
Ola Money is the easy way to add money to your virtual wallet and pay without any hassle. Using either Net-banking or debit/credit card, you can add money to the wallet. On adding an amount for the first time, you receive 20% cashback instantly. Ola Money wallet is another application, therefore, apart from adding the amount and paying fares, you can transfer money to your friends, recharge your data card and metro card. Also, you get time to time notifications of different Ola money offers.
How to Add Money to Your Ola Wallet to Use Ola Money Offer?
First of all, install the Ola application from the application store.
Create a new Ola account or link the existing one.
Add money to your wallet and also, use the promo code to avail Ola money 599 offer 2018.
Win the cashback amount as per the mentioned terms and conditions.
Ola Money Offer Search Terms
Ola Money 599 Offer, add ola money offer, ola money add money offer, ola money add cash offer, Ola Money Rs. 99 offer, Ola Add Money Promo Codes, Ola Add Money coupons, Ola Add Money offers, ola money offer 999, ola money offer 599, ola money new user offer