Table of Content
Blaupunkt LED TV Sale & Offers -  Flipkart Blaupunkt TV Sale Online
Don't miss the best Blaupunkt TV offers on Flipkart, and do remember that the
Flipkart Blaupunkt TV
 available on Flipkart on Discounted Price.
Still confused which one to buy? Check out the basic details about all the eight Blaupunkt TV models below, and decide which of them fits your requirements.
Blaupunkt TV Price List on Flipkart
| | | | |
| --- | --- | --- | --- |
| Blaupunkt LED Tv Variants | MRP | Offer Price | Grab Offers |
| Blaupunkt 124cm (49 inch) Ultra HD (4K) LED Smart TV with In-built Soundbar  (BLA49AU680) | Rs.55,000 | Rs.40,999 | Grab Offers |
| Blaupunkt 109cm (43 inch) Full HD LED Smart TV with External Soundbar  (BLA43AS570) | Rs.41,000 | Rs.28,999 | Grab Offers |
| Blaupunkt 109cm (43 inch) Full HD LED TV  (BLA43AF520) | Rs.32,000 | Rs.22,999 | Grab Offers |
| Blaupunkt 80cm (32 inch) HD Ready LED TV  (BLA32AH410) | Rs.18,000 | Rs.12,999 | Grab Offers |
| Blaupunkt 127cm (50 inch) Full HD LED Smart TV with External Soundbar  (BLA50AS570) | Rs.49,000 | Rs.34,999 | Grab Offers |
| Blaupunkt 109cm (43 inch) Ultra HD (4K) LED Smart TV with In-built Soundbar  (BLA43AU680) | Rs.43,000 | Rs.30,999 | Grab Offers |
| Blaupunkt 140cm (55 inch) Ultra HD (4K) LED Smart TV with In-built Soundbar  (BLA55AU680) | Rs.65,000 | Rs.47,999 | Grab Offers |
| Blaupunkt 80cm (32 inch) HD Ready LED Smart TV with External Soundbar  (BLA32AS460) | Rs.24,000 | Rs.16,999 | Grab Offers |
Blaupunkt TV Offers on Flipkart
You can avail the Blaupunkt TV best price at Flipkart through the ongoing Blaupunkt TV offers and deals on Flipkart, such as the following.
Avail No Cost EMI starting at Rs 2,167 per month from Bajaj Finserv Credit Cards
Bank offer of Extra 5% off with Axis Bank Buzz Credit Card
Partner Offer : Buy any TV and get 2-month Free ACT Broadband Subscription with extra 1500GB data and a Free Wi-Fi Router
Standard EMI also available through credit card transactions from leading banks such as American Express, Axis Bank, HDFC Bank, Citibank, ICICI Bank, HSBC, IndusInd Bank, Kotak Bank, RBL Bank Credit Card, Standard Chartered Bank, State Bank of India, and Yes Bank.
Hope we have cleared all your confusions regarding the purchase of your favourite Blaupunkt TV according to your requirements through the above specifications and offers. Make use of the above listed Blaupunkt TV offers on Flipkart to get your Blaupunkt TV at a much lower cost with extra benefits.

Blaupunkt LED TV
Innovations with respect to entertainment have gone through multiple rounds with the invention of radios, televisions, smartphones, and now smart LED TVs. The invention of electronic television dates back to 1927 when Philo Farnsworth invented the first ever television that ran on electricity. Nowadays, televisions have become a primary source of entertainment for us at our homes, offices, restaurants, and where not? But, ever since smart LED TVs have come into existence, the level of entertainment has risen when we can access the internet and stream our favorite shows and movies online, all in one place.
German electronics company, Blaupunkt, has returned to the industry with its new series of LED TVs. The 95-year old organization has made a comeback, this time to India, to launch its all-new 4K smart LED TVs and external soundbars.
Blaupunkt LED TVs
will not only offer you the high-end specs, but will also fit your budget and needs according to your requirements regarding the screen sizes, specifications, quality, and screen resolution. Blaupunkt TVs are here to save you some extra bucks when you plan on buying a new LED television for your home, workplace, or wherever you want to put one.
Blaupunkt has been popular amongst the other electronics companies, because of its very first and diligent efforts in inventing sound systems for cars and homes, ranging over 100 countries. Thus, you need not to worry about the sound quality in the Blaupunkt TV models, as you will witness the best-in-class audio experience through your new Blaupunkt LED TV. There's an inbuilt 60W soundbar already present with the 4K Smart Series, whereas the Smart Sound Series flaunts an external soundbar with 60W output and inbuilt 30W speakers, and the family series fits an inbuilt 30W speaker with the LED TV.
Just as Blaupunkt LED TVs fit your requirements, Flipkart also promises to bring these LED TVs for you at the most affordable prices that suit everyone, provided that the online shopping portal has been the most trusted one when it comes to electronics and home appliances. Blaupunkt has partnered with Flipkart in order to bring you the most advanced entertainment experience, well that's how promises are fulfilled. Oscar-winning Indian film sound editor, designer and mixer Resul Pookutty, along with other sound experts, has personally tested and approved whole of the Blaupunkt TV range, which has landed it to the #PointofPerfection. Launching on 18th September, 2018 Blaupunkt TV range is going to take you by storm, with the kind of quality it delivers, be it the visually appealing experience and the impeccable sound. The Blaupunkt TV range comprises of three extraordinary series, including the basic, the smart, and 4K UHD. All these Blaupunkt LED TV series make sure you view, hear, and experience the best of the lot with perfection.
Blaupunkt, or 'Blue Dot' in German, has launched eight of its best LED TVs in all the three different categories in India, this September. The Blaupunkt LED TV range offers best in class picture quality and the best sound quality that can never be matched or defeated. The speakers and built-in soundbars in some of the Blaupunkt TVs will make sure what you see should be in compliance with what you hear, without the need to pair up your hefty and expensive speakers. This is going to be a true entertainment package for your homes and workplaces.

Blaupunkt LED TV Screen Sizes
The screen sizes of televisions should be such that not only fulfil your requirements, but also suit your room. Being said that, Blaupunkt TV range offers screen sizes ranging from 32 inches to 55 inches, so that you could choose from the wide range of sizes, which will never be too small or too big, that will definitely suit your room and your style, for sure. Not only this, the Blaupunkt TV range will never go out of your budget when you need the best LED TV from the available choices, according to your requirement and the space that you have in your rooms. Thus, purchasing a Blaupunkt LED TV will never land you in a situation to regret over, and will never bite your pocket. Know about the best fit for your budget and room below.

4K UHD Blaupunkt LED TV 
This LED TV range from Blaupunkt offers three smart TV models in 43-inch, 49-inch, and 55-inch sizes. All the smart TVs in this range feature 1GB of RAM coupled with 8GB of built-in storage for your favourite movies, music, and apps. The 4K UHD series is powered by a Cortex-A53 Quad Core processor clocked at 1.5 GHz for seamless performance.  The graphics performance is handled by a penta core Mali-450MP graphics processor clocked at 750 MHz. If performance is secondary for you, and picture quality and resolution is what you care for, then you can get 3840 x 2160 pixels resolution for the best in class picture viewing experience. The visual experience should be complemented with the best sound experience, for which the Blaupunkt TV offers an in-built 60W soundbar. That's not all, what's more is these TVs boast a Hybrid Launcher to let you connect to and switch from your favourite TV channels on your Dish TV to the preferable internet app in just a tap. The smart features require a Wi-Fi connection to watch your favourite shows and movie content online via screen cast, which the Blaupunkt smart TVs are capable of. The Blaupunkt TV remote is not just a regular or standard one, instead you get a multifunctional Air Remote featuring a mouse cursor and support for voice recognition too. A truly immersive smart experience awaits your nod, make it yours.

Blaupunkt Smart LED TVs
If you're in no need of viewing 4K UHD content, then you can definitely choose from another smart TV series from Blaupunkt. This TV range features a Full HD display with sleek metallic bezels, also equipped with external soundbar. Available in 32-inch, 43-inch, and 50-inch screen sizes, these smart LED TVs come powered by a Quad Core Cortex-A53 processor clocked at 1.5 GHz, coupled up with 1GB of RAM and 8GB of internal storage. The graphics performance is handled by a penta core Mali-450MP graphics processor clocked at 750 MHz. The smart series also come equipped with superior AI features and interface to let you enjoy the smartness of the Blaupunkt smart LED TVs seamlessly. When you get a smart TV, you can always stream your favourite online show contents, cast photos from your smartphone, all through the Wi-Fi connectivity feature available on the smart series. The smart TV series with Full HD also comes bundled with the multifunctional Air Remote from Blaupunkt, featuring a mouse cursor and support for voice recognition. Thus, not only your Blaupunkt TV is smart, but your Blaupunkt TV remote is even smarter.

Blaupunkt Family LED TVs
Blaupunkt has it all for each and everyone in their store. The Family series in Blaupunkt LED TV range comprises of two size models, a 32-inch HD Ready LED TV and a 43-inch Full HD display LED TV. Though, the televisions in this series are not smart enough, but be sure that there is no compromise in terms of display and sound experiences. These Blaupunkt TV offers incredibly brilliant pictures for a superior viewing experience, along with the reasonably realistic picture presentation. Close by the lively hues you can likewise appreciate and alter your TV as per your inclinations as it underpins various review points. Nonetheless, one place where you do not have to, anyhow, compromise is its exceptional sound! Thanks to 30W Blaupunkt TV Speakers with surround sound system that can make you bet on these TVs for quality amusement.

Blaupunkt  Friendly Price for Surreal Experience
While you are thinking of your favourite Blaupunkt TV price, we would like to ensure you that it's not gonna bite your pocket as they are the most affordable TV series of the lot, for what you might have spent a fortune. The exceptionally brilliant eight Blaupunkt TV prices are pocket-friendly for everyone who are planning to purchase one of them or even all. The price tag for the Family series of Blaupunkt LED TVs starts at Rs 12,999, while the Smart series starts at Rs 16,999, and the 4K UHD series is one of the most affordable ones with a starting price tag of just Rs 30,999. When you can get the best visual and audio experience at such an affordable and pocket-friendly price, then why spend on the expensive smart TVs from any other brand that would score a big hole in your pocket. The winning Blaupunkt LED TVs are affordable, qualitative, and a perfect combination of visual and audio aspects.

Blaupunkt TV Best Price on Flipkart
Blaupunkt TV 32 Inch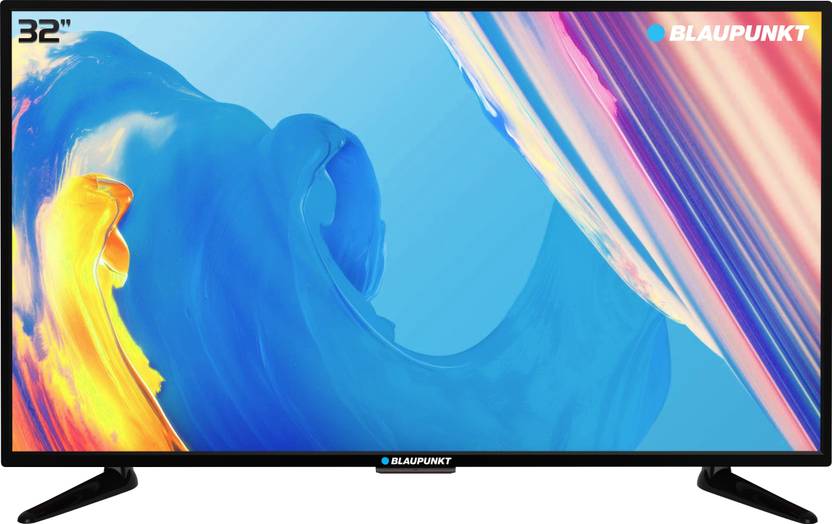 Price - Rs 12,999
30W Speaker
1366 x 768 HD Ready
60 Hz Refresh Rate
2 x HDMI
2 x USB
BLAUPUNKT TV 43 INCH
Price - Rs 22,999
30W Speaker
1920 x 1080 Full HD
60 Hz Refresh Rate
2 x HDMI
2 x USB
---
Blaupunkt TV 32 Inch (Smart LED) With External Soundbar
Price - Rs 16,999
Cortex-A53 1.5GHz Quad Core
Mali-450MP Penta Core 750 MHz
1GB RAM + 8GB ROM
1366 x 768 HD Ready
60 Hz Refresh Rate
3 x HDMI
2 x USB
30W In-built Speaker + 60W Soundbar
---
Blaupunkt TV 43 Inch (Smart LED) With External Soundbar
Price - Rs 28,999
Cortex-A53 1.5GHz Quad Core
Mali-450MP Penta Core 750 MHz
1GB RAM + 8GB ROM
1920 x 1080 Full HD
60 Hz Refresh Rate
3 x HDMI
2 x USB
30W In-built Speaker + 60W Soundbar
---
Blaupunkt TV 50 Inch (Smart LED) With External Soundbar
Price - Rs 34,999
Cortex-A53 1.5GHz Quad Core
Mali-450MP Penta Core 750 MHz
1GB RAM + 8GB ROM
1920 x 1080 Full HD
60 Hz Refresh Rate
3 x HDMI
2 x USB
30W In-built Speaker + 60W Soundbar
---
Blaupunkt TV 43 Inch (4K Smart LED) With Inbuilt Sounbar
Price - Rs 30,999
Cortex-A53 1.5GHz Quad Core
Mali-450MP Penta Core 750 MHz
1GB RAM + 8GB ROM
3840 x 2160 4K Ultra HD
60 Hz Refresh Rate
3 x HDMI
2 x USB
60W Speaker
---
Blaupunkt TV 49 Inch (4k Smart LED) With Inbuilt Soundbar
Price - Rs 40,999
Cortex-A53 1.5GHz Quad Core
Mali-450MP Penta Core 750 MHz
1GB RAM + 8GB ROM
3840 x 2160 4K Ultra HD
60 Hz Refresh Rate
3 x HDMI
2 x USB
60W Speaker
---
Blaupunkt TV 55 Inch (4k Smart LED) With Inbuilt Soundbar
Price - Rs 47,999
Cortex-A53 1.5GHz Quad Core
Mali-450MP Penta Core 750 MHz
1GB RAM + 8GB ROM
3840 x 2160 4K Ultra HD
60 Hz Refresh Rate
3 x HDMI
2 x USB
60W Speaker