Table of Content
GoPaisa 10th Anniversary Offer (10th - 19th Sept 2022): 2X Cashback On Top Retailers, GoPaisa Contests & Much More
Well, well, well, the big news is here! GoPaisa — your favourite cashback & coupon platform — is turning 10 on September 11. Yep, Incepted in the year 2012 by a husband-wife duo, Ankita and Aman Jain, to precisely target the basic instinct of an Indian shopper, GoPaisa has successfully completed its 10 years in the coupons and cashback industry. To celebrate this prestigious occasion and special milestone with users, GoPaisa is excited to bring its 10 days Anniversary Offer commencing from September 10 onwards. This 10-day GoPaisa Anniversary Offer will offer 2X GP cashback on top retailers to all existing and new GoPaisa users. There's a lot more for savvy shoppers during the GoPaisa 10th Anniversary, so read the post till the end. 
What is the date and time for GoPaisa's exclusive Anniversary Offer?
GoPaisa's exclusive 10th Anniversary Offer will commence on September 10, 2022, and will run till September 19, 2022. Mark the dates on your calendar because there will be never-seen-before cashback offers on top retailers, as well as exclusive GoPaisa contests to win free vouchers.
GoPaisa 10th Anniversary Offer Details
GoPaisa's exclusive 10th Anniversary offer is a ten days shopping extravaganza wherein users can get their hands on exclusive 2X GP cashback on top 10 stores. Below listed are the top 10 stores on which you will get 2X Cashback on every purchase between 10th-19th September 2022. 
Participate In GoPaisa Contest & Win Rs.20-Rs.500 Amazon Vouchers
While you're enjoying 2 times GP cashback on the top 10 retailers, there's a lot more on our exclusive GoPaisa 10th Anniversary Offer. Participate in our GoPaisa Hide & Seek contest and win exclusive Amazon vouchers. This Hide & Seek contest will run between 10th-16th September where users can win vouchers worth Rs. 20- Rs. 500. For this contest you should have GoPaisa App, If you havn't then downlaod now.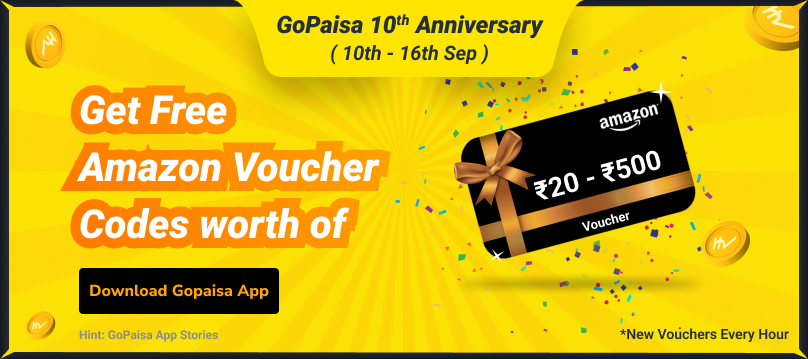 Hint to win Amazon vouchers: visit our newly-added GoPaisa Stories feature. 
What is the GoPaisa Stories feature?
GoPaisa Stories is a unique mobile feature on our GoPaisa mobile app where users will get all the details of the trending deals of the day, multiple offers and coupon codes from top retailers in a slideshow format. It is just like Instagram stories where you get all your friend's posted pictures and videos in a slideshow for 24 hours. This feature eliminates the hassle of searching for trending offers here and there as you can access all the offers with a tap on your mobile screen. So, don't overthink; just head over to your GoPaisa app to check this amazing feature. 
GoPaisa 10th Anniversary Offer TnC's
The 2X Cashback is valid only on retailers mentioned on GoPaisa's 10th Anniversary Offer page.
This 2X Cashback offer is applicable for both GoPaisa web and App users. However, the contest is only available for GoPaisa Mobile App users. 
The 2X cashback offer will be live between 10th - 19th September 2022, whereas GoPaisa Contest will be live between 10th - 16th September 2022. 
The maximum 2X cashback per order is limited to Rs. 100. 
Other standard GoPaisa terms and conditions apply.
The query against the missing transaction will be entertained as per the merchant's conditions of acceptance of missing.