Table of Content
Bala Streaming on Hotstar! How to Watch or Download the Movie Online Before TV?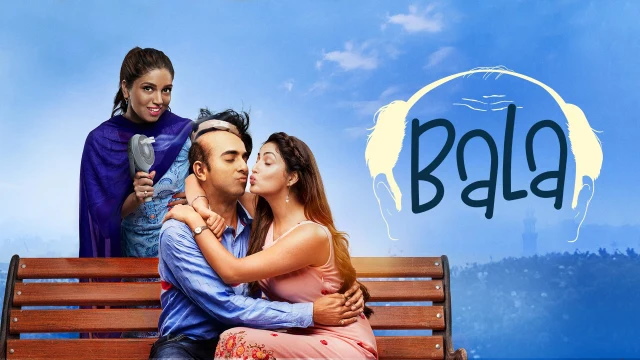 Have you missed viewing Ayushmann Khurrana, Yami Gautam and Bhumi Pednekar's hit drama movie Bala at the theaters? Don't worry! Now you can catch it online. The movie is now streaming online, you can access Bala movie on Hotstar. 
Bala is the story of a young man Balmukund Shukla (Khurrana) with a sinking hairline. After disappointing him to regain his hair, he decides to wear a wig. His new look finds the support of TikTok star Pari (Yami Gautam). Bhumi Pednekar plays the role of a dark-skinned girl whose mother is always on the lookout for a groom. This dramatic romance which was released on 7 November 2019 in cinemas will be available on Hotstar. Find below how you can stream this blockbuster online on Hotstar. Also, to stay updated with all Hotstar new releases then don't forget to subscribe to GoPaisa.  
Watch Bala movie trailer on Hotstar
Bala movie shows the story of Bala (Ayushmann Khurrana), a man who is balding prematurely and how he survives the situation. Additionally, the movie narrates Bala's connection with two women played by Yami Gautam and Bhumi Pednekar respectively. The man in the movie is Balmukund Shukha whos pride lies in his hair, but premature balding robes him off more than just his looks. With love at stake, will Bala ever have 'hairy'tale ending? Find out now.
Bala full movie on Hotstar release date
Ayushmann's another romantic blockbuster Bala is going to be streaming on Hotstar on this republic day i.e., 26 January 2020.
Star cast of Bala movie 
Bala movie hitting the bars because of the super hit star cast. The movie is starring is Ayushmann Khurrana, Yami Gautam and Bhumi Pednekar in the lead roles.
Find the complete list of Bala movie star cast below :
Ayushmann Khurrana as Balmukund "Bala" Shukla
Yami Gautam as Pari Mishra
Bhumi Pednekar as Latika Trivedi
Javed Jaffrey as Bachchan Dubey
Seema Pahwa as Mausi
Varun Shashi Rao as Mahesh
Saurabh Shukla as Hari Shukla— Bala's father
Dheerendra Gautam as Bala's younger brother Vihan Shukla
Sonam Bajwa as herself in the song "Naah Goriye"
Harrdy Sandhu as himself in the song "Naah Goriye"
Deepika Chikhalia as Susheela Mishra— Pari's mother
Sunita Rajwar as Manju Shukla— Bala's mother
Umesh Shukla as Bhuvan— Bala's maternal grandfather
Sumit Arora as Vivek Saxena— Bala's boss
Ziya Ahmed as Mohan Mishra— Pari's father
Abhishek Banerjee as Ajju
Charu Agrawal as Shruti
Aparshakti Khurana as Jayesh— Shruti's boyfriend
Sachin Choudhary as Young Bala
Ranjan Raj as Sumit
Saniya Touqeer as Young Latika
Rajat Singh as Young Ajju
Soundtracks of Bala Movie
"Naah Goriye" has proven to be a hit in Bala, is a recreated version of the song "Naah" by the same artists released in 2017. 
Find all soundtracks of Bala movie below:
Don't Be Shy Again
Pyaar Toh Tha
Tequila
Zindagi
How to watch Bala movie on Hotstar In High definition for free?
If you missed watching Ayushmann Khurrana, Yami Gautam and Bhumi Pednekar's hit drama Bala at the theatres, you can now watch it online. The film is streaming on Hotstar. If you are looking for Bala torrents then you'll be disheartened to know that there is no other way to watch Bala in high definition for free. For this, you only need Hotstar one of the subscriptions among the Premium and VIP subscription. To find out how you can get these subscriptions with simple tips and tricks for free, just scroll down.  
How to get Hotstar subscription for free - tips and tricks
Flipkart offer for Hotstar 1 year Premium subscription - If you are a regular shopper on Flipkart then you'll be happy to know that Flipkart is giving 12 months free subscription of Hotstar premium for Flipkart Plus users. If you have 750 super coins and then you are eligible to get a voucher of Hotstar, in exchange of 750 Super Coins.
Watch Hotstar via friends or family member's account - This is the easiest and cleverest trick for people who don't want to invest in buying own Hotstar subscription. You can sure watch your favourite shows from your friend's or family members' Hotstar account.
How to download Bala movie for free in HD Quality?
If you are looking for Bala movie torrent download, there is no need to spend your precious time on untrusted source downloads. Instead of downloading the  'Bala' movie from a malicious website, download them in HD from Hotstar after taking the Hotstar subscription. The yearly subscription of Hotstar Premium is available at a cost of Rs. 999 only. And annual membership for Hotstar VIP is available at Rs. 365/year. After selecting the subscription plan of your choice, you can start watching Bala movie in High Definition for free.
Steps to watch Bala movie on Hotstar
The Hotstar subscription offers are really cheap and handy. Follow these simple steps and stream an unlimited number of movies and web series on Hotstar. 
Signup or Login to your GoPaisa account.
Search for Bala movie on Hotstar.
Click on grab a deal option on the right side. 
You'll be automatically redirected to Hotstar mobile app or website.
Click on the login option available at top right corner. 
Now select your desired plan and proceed to checkout.
Make your payment with any digital method available. 
Now, enjoy Bala or any of your favourite shows available on Hotstar. 
Hostar subscription plans and offers -  Stream Bala movie in High Definition
Hotstar Premium has an annual subscription which is available at a cost of Rs. 999 only. There is another plan available which is more affordable than the annual premium plan and is meant to cater to those who do not want to see all the content from the premium category. VIP membership on Hotstar is the latest paid subscription that provides an experience of consuming ad-free content as well as giving users access to some shows and movies that are not available for free. VIP subscription costs Rs 365 per year. VIP membership also offers the latest episodes of Indian TV shows every day at 6 am. Members will also be able to use Hotstar exclusive content along with watching the new Indian film premieres. With a VIP membership, Hotstar does not offer Hollywood movies and American TV shows from HBO, HOOQ, FOXLife, National Geographic and other English channels. If you want to watch live cricket matches during the upcoming cricket season, VIP membership is an ideal option. If you like to binge on TV shows and don't bother about Hollywood movies and American TV shows, then VIP membership makes better sense.