Table of Content
Flipkart Video Originals' Zindagi InShort' Streaming on Flipkart Video: Binge-watch all episodes in High Definition for FREE!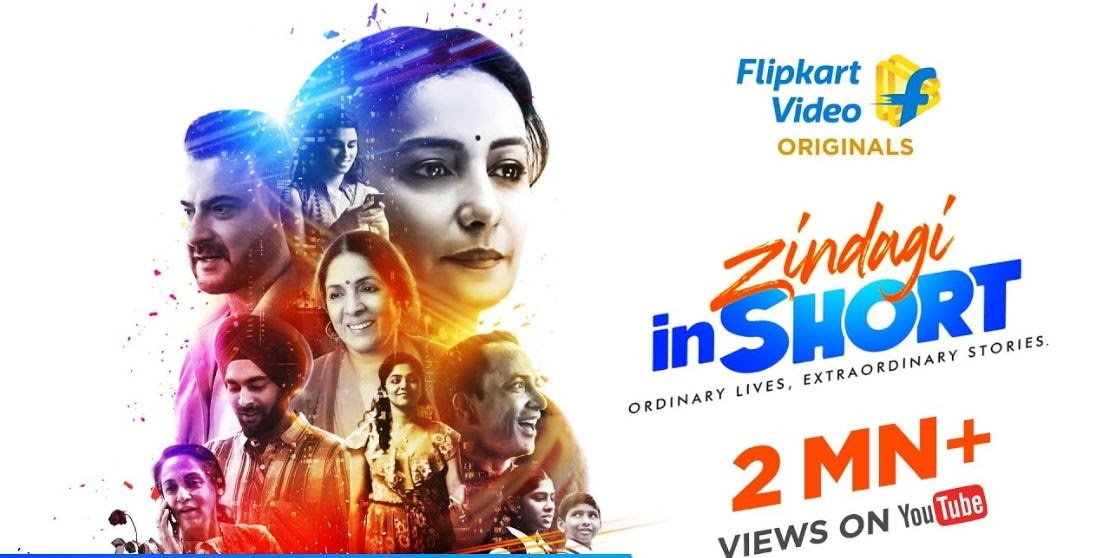 India's leading eCommerce marketplace Flipkart is all set to release its second Original show 'Zindagi InShort' on its video streaming platform. An anthology of Seven heartwarming stories, Zindagi InShort show is all about unique heart touching stories, each dealing with critical and relevant issues that are not spoken about a lot. The series will be available from February 19, 2020, on Flipkart main app. Before talking much about Zindagi InShort series, let's check out what producer Guneet Monga says about the show. 
Producer Guneet Monga says, "Zindagi inShort is our attempt to normalise conversations about extraordinary situations in our ordinary lives. The idea is to look at these situations differently and laugh, smile and rise. We're excited to offer films that make viewers pause, register and move on with a lingering thought that holds the power to change us for good."
The series will be of seven-episodes anthology; each episode features the different situations such as online romance, infidelity, the construct of being loved in a marriage, the innocence of childhood, the confusion of old age, a woman owning her role in the family and standing up for yourself when it's the hardest to do so. If you want to binge-watch the series online for free, you only require a Flipkart Plus account.  In this article, we have covered all the details related to the 'Zindagi inShort' web series and Flipkart Video Originals.  
Watch Zindagi InShort Series Online
 Zindagi InShort is a Flipkart Video Originals' series streaming online only on Flipkart Video. To watch the latest episodes of Zindagi InShort, you only require a Flipkart's account. If you already own a Flipkart shopping account, you can watch all the other web series, latest blockbuster movies, and Flipkart Originals show in high-definition on your Flipkart shopping app. The key point to note is that the Flipkart Video online streaming will only be done on smartphones and tablets. You'll be unable to watch Flipkart Original's video content on the Flipkart website.   
Steps to watch Zindagi InShort Season 1 on Flipkart app:
Step 1: Download the Flipkart shopping app on your Android/IOS smartphone.
Step2: Login to your account
Step 3: Go to the video section
Step 4: Select Zindagi InShort Season 1 show or Click Here
Step 5: Now binge-watch Flipkart Video Originals Zindagi InShort Season 1 online
Zindagi InShort Release Date
Based on the theme of love, Zindagi InShort will be released on the streaming platform Flipkart Video on February 19, 2020. So, if you are waiting to binge-watch all episodes online, the web series will stream on Flipkart's main app from this Wednesday. 
All About Zindagi InShort Web Series - The Flipkart Video Original's Second Show
Flipkart Video Originals' 'Zindagi InShort' is an anthology of 7 heartwarming stories, which explores themes of broken marriages, infidelity, and nascent love. Each episode of the series represents different stages of life and bittersweet moments that can at times. Zindagi InShort unique stories collection is something that everyone will be able to relate to, either in one way or the other. 
Zindagi InShort all episodes to binge-watch right now!
Here are the seven short films that constitute the anthology. Watch the entire Zindagi InShort season 1 now!  
Episode 1: Chajju Ke Dahi Bhalle 
Episode 2: Nano So Phobia
Episode 3: Sunny Side Upar
Episode 4: Swaaha
Episode 5: Pinni
Episode 6: Sleeping Partner
Episode 7: Sleeping Partner
Zindagi InShort Cast & Crew
The anthology stars a potpourri of talented actors such as Sanjay Kapoor, Nidhi Singh, Shishir Sharma, Divya Dutta, Rytasha Rathore, Vedika Nawani, Jitin Gulati, Neena Gupta, Srishti Shrivastava, Nakul Mehta, Swaroop Sampat, and Arun Kushwah among others. Popular Malayalam actress Rima Kallingal is also making her Bollywood debut with this series.
All these stories are helmed by some rather new and exciting directors that include Punarvasu Naik, Vijayeta Kumar, Rakesh Sain, Tahira Kashyap Khurrana, Dr. Vinay Chhawal and other such talents.
Watch or Download Zindagi In Short all episodes in High Definition for Free!
If you're looking for another medium to download Zindagi InShort web series online, drop your plans right away. As we already mentioned, the #ZindagiInShort web series will only stream online on Flipkart Video App. So, you can watch or download the online through Flipkart app only. Currently, the show is streaming for free on Flipkart Video app, so you do not require a plus membership to watch the show. Moreover, you can also watch blockbuster movies and shows for free on Flipkart. So, without wasting any time, watch the latest edition of Bigg Boss Season 13, Splitsvilla Season 12, along with #ZindagiInShort on Flipkart Video Originals.???