Table of Content
PhonePe Ticketnew Offer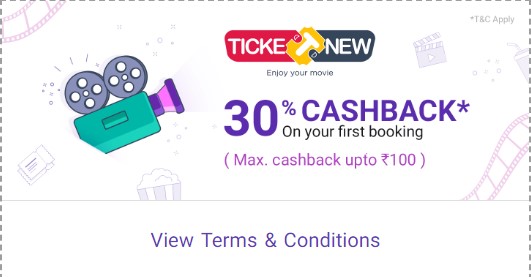 What is the offer?
30% Cashback (up to Rs100) on PhonePe transaction (UPI, Cards) on TicketNew platform(s), during the offer period.
What is the offer duration?
21st January, 2018 (00:00:00 Hours) to 4th February, 2018 (23:59:59 Hours)
What is a valid PhonePe payment?
Payment to be made through UPI, Debit Card or Credit Card, within the "PhonePe" option on TicketNew checkout.
For users paying through UPI, cashback will be valid only if the transaction is processed through "@ybl" VPA handle or through PhonePe-linked bank account or complete the transaction within the PhonePe app.
Offer not valid on Wallet only payments. In case of partial payments using wallet balance and UPI/Cards, only the amount paid using UPI/Cards will be considered for the offer.
How do I check the eligibility of a purchase?
This offer will be applicable on any purchases made on the Ticketnew platform(s).
How many times can this offer be availed?
Cashback is valid once (per user) using PhonePe during the offer period.
When do I get the cashback?
Cashback will be credited into your PhonePe wallet within 24 hours of successful completion of the transaction.
What other conditions apply on the cashback amount?
Maximum cashback up to Rs100
Cashback can be used for recharges, bill payments and payments on PhonePe partner platforms/stores.
The cashback amount credited to PhonePe wallet cannot be withdrawn to any linked bank account or transferred to other users.
Cashback will not be offered if payment is made through PhonePe wallet. In case of partial payments using wallet balance and UPI/Cards, only the amount paid using UPI/Cards will be considered for the offer.
Grab on the Best Phonepe Movie Offers to Earn Lucrative Cashback
Movies have been the best source of entertainment for more than two decades. When the weekend is around the corner, we start our search for the latest release of the week. However, spending money every week on movie tickets is not what everybody can afford. For this reason, PhonePe offers plenty of schemes such as PhonePe TicketNew offer and PhonePe BookMyShow offer, to minimize the total bill amount on the movie.
PhonePe Movie Booking Offers - How to Book Movie Tickets on PhonePe at Discounted Price?
Who doesn't like watching newly-released movies in theatres? Everyone does But wouldn't that be great to win cashback on movie ticket booking? Movie tickets can be expensive so it is better to save money using various PhonePe offers. PhonePe, an e-wallet service, allows users to win amazing cashback when they book movie tickets using offers like TicketNew PhonePe offers or PhonePe Offer on PVR Cinemas. Easily, you can use them to win cash back on your online movie ticket booking.
Current TicketNew PhonePe Offers on Movie Ticket Booking
At present, there is only one Phonepe offer running on the TicketNew portal. With this offer, you can earn exciting cashback of Rs.75 when you purchase movie tickets from TicketNew. However, this offer is applicable to first-time users only. In other words, those who will make their first transaction can avail the cashback amount via TicketNew Phonepe offer. To make use of this offer, a user is required to make payment using PhonePe wallet on TicketNew movie tickets booking portal.
What Is PhonePe Offer on TicketNew?
When you book movie tickets via PhonePe on TicketNew platform, you receive an instant cashback of Rs.75. However, this PhonePe movie ticket booking offer is available for a single transaction only during the offer period.
How to Book Movie Tickets on PhonePe through TicketNew?
You can minimize the cost of your movie tickets if you make use of available PhonePe movie offers. For PhonePe movie ticket booking, you have to follow a few simple steps:
Go to the TicketNew platform and look for your city.
From the available option, select the movie that you wish to watch.
Make payment via PhonePe and book your tickets.
How to Book Movie Tickets on the PhonePe App?
To use the PhonePe app for online movie ticket booking, you need to install the PhonePe app on your device.
Sign in to your account or register as a new user.
Now, visit TicketNew to book your movie tickets.
Enter your city name and choose 'Movies' option.
Click the movie that you wish to watch.
As per your choice, select the theatre, showtime, and a number of seats.
Fill in your details such as email address and mobile number.
Under the payment option, select the PhonePe option.
Complete your payment using the PhonePe wallet and wait for the cashback to be credited to your account.
What is Phonepe Offer on PVR Cinemas?
If you regularly visit PVR cinemas, then you can book your tickets using the PhonePe app or website to save a few bucks in your pocket. On booking tickets on PVR cinemas via the PhonePe platform, you can earn cashback of up to Rs. 50 on your total bill amount.
How to Book a Movie Ticket on PhonePe?
Go to the PVR Cinemas website to book your movie tickets.
Select your show timings and seat from the available options.
Select the 'PhonePe' option as your payment method at the time of checkout.
Before making the transaction, enter the PhonePe promo code.
After the successful transaction, the cashback amount will get credited to your account within 24 hours.
How To Book Movie Tickets Using PhonePe(TicketNew App)
PhonePe is financial technology company headquartered in Bangalore, India. It was founded in December, 2015. It provides an online payment system based on Unified Payments Interface (UPI), which is a new process in electronic funds transfer launched by National Payments Corporation of India (NPCI). Know Details..
How Can I Transfer Money from Phonepe to Paytm?
First, add the Paytm beneficiary name to your PhonePe and then transfer the money. Use option "To Account transfer" in PhonePe to send the money. You can't send money directly to Paytm wallet using Phonepe. You have to use the "Add money" option in Paytm to add money to your Paytm wallet.
Is Phonepe safe for booking movie tickets?
PhonePe is 100% safe and secure. It is powered by Yes Bank. All payments happen over secure banking networks and the app does not store any user data or passwords. All you need to do for every transaction is enter your MPIN (which only you know). Know Details.
How do I add a bank account to Phonepe?
Go to the Bank Account section, and tap on the " Add New Bank " button. Select the bank which you want to link with PhonePe from the list of available banks. PhonePe will fetch your account details in an instant and will link it to your account. proceed to set up UPI PIN by tapping on the set UPI PIN button. Know details here.
Can I transfer money from Phonepe to my bank account?
You can withdraw your wallet balance to the bank free of charge. The app can be used to transfer money from one bank to the other. It also works to transfer money to other wallets. The transfer is possible with the user's linked bank account(s) only. Know Details...
What is a PhonePe wallet?
PhonePe Wallet is also a digital wallet launched by the e-commerce giant Flipkart and is the first Unified Payment Interface (UPI) based app in the country. Know Details...
PhonePe TicketNew Offer Search Terms
PhonePe movie offers, How to book movie tickets on Phonepe, PhonePe bookmyshow offer, PhonePe movie ticket booking, PhonePe Ticketnew Offer, PhonePe Offers Today, PhonePe wallet offers